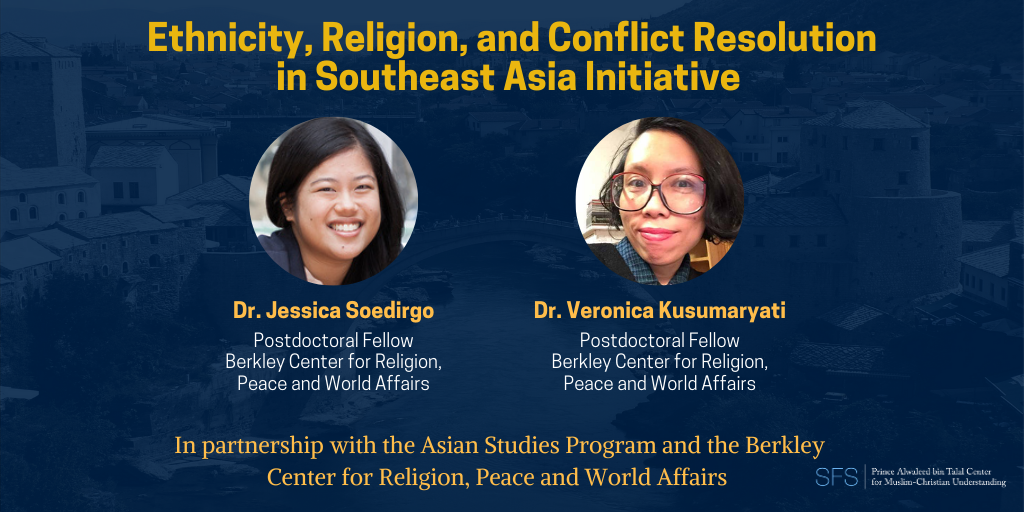 ACMCU is happy to announce our 2020-2021 initiative to collaborate with the Asian Studies Program and the Berkley Center for Religion, Peace, and World Affairs in supporting scholarship on Ethnicity, Religion and Conflict Resolution in Southeast Asia. After a competitive search, the post doctoral fellowships were awarded to Dr. Veronika Kusumaryati and Dr. Jessica Soedirgo.
Dr. Veronika Kusumaryati works on the histories and ethnography of colonialism, political violence, indigenous politics, and the role of media in Indonesia. The fellowship will allow her to complete her manuscript on the violent conflict between indigenous Papuans and Indonesian migrants coming to West Papua.
Dr. Jessica Soedirgo works on the targeting of Muslim minorities in Indonesia and informal institutions of peace building. During her postdoctoral fellowship, she will be working on transforming her dissertation into a book entitled The Threat of Small Things: Patterns of Repression and Mobilization Against Micro-Sized Groups in Indonesia
Our postdoctoral fellows have also presented lectures to the Georgetown community.  On November 11, 2020, Dr. Sedirgo presented "Understanding Conflict Among Muslim Minorities in Indonesia" and on November 17, 2020, Dr. Kusumaryati presented "#Papuanlivesmatter: Youth Political Movements and Black Consciousness in West Papua."  Videos of these presentations are available here.