Islam and Good Governance: A Political Philosophy of Ihsan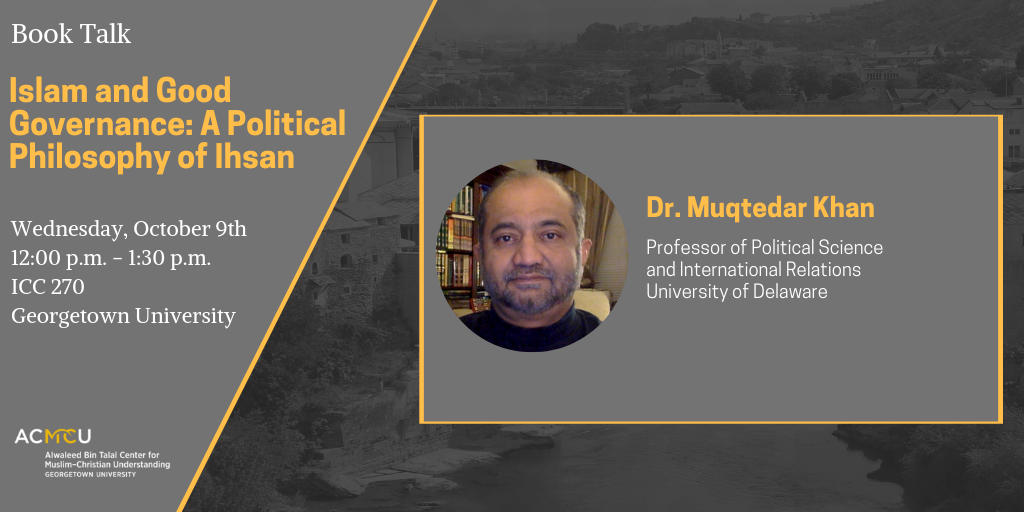 Event
Dr. Muqtedar Khan will speak about his new book, Islam and Good Governance: A Political Philosophy of Ihsan (Palgrave Macmillan, 2019). The book advances an alternate paradigm for Islamic polities and politics that is at the same time an advocate for Ihsan (doing beautiful things) in the public arena and critique of the model of an Islamic state understood primarily as enforcement of Sharia (Islamic law).
Speaker
Dr. Muqtedar Khan is a professor in the Department of Political Science and International Relations at the University of Delaware. He is the Academic Director of the State Department's National Security Institute (2016-2019) at the Institute for Global Studies at the University of Delaware. He was a senior non-resident fellow of the Brookings Institution (2003-2008), a fellow of the Alwaleed Center for Muslim-Christian Understanding at Georgetown University (2006-2007), and a fellow of the Institute for Social Policy and Understanding (2001-2016). He is currently a senior fellow with the Center for Global Policy (2016-present).
He earned his Ph.D. in International Relations, Political Philosophy, and Islamic Political Thought from Georgetown University in May 2000. He founded the Islamic Studies Program at the University of Delaware and was its first director from 2007-2010.
As an expert on governance, Islam and American foreign policy, he has lectured and trained scholars, students, elected leaders and policy makers in the U.S., Philippines, Indonesia, Malaysia, Finland, Germany, UK, France, Turkey, Tunisia, Morocco, Egypt, India, Ireland, Jordan, Saudi Arabia, UAE, Qatar, Singapore, Canada, and Belgium. He was the Academic Director of the U.S. State Department's National Security Institute from 2018-2019 and the American Foreign Policy Institute from 2019-present.
His most recent book, Islam and Good Governance: Political Philosophy of Ihsan, was published in April 2019 by Palgrave Macmillan. He is also the author of several books: American Muslims: Bridging Faith and Freedom (Amana, 2002), Jihad for Jerusalem: Identity and Strategy in International Relations (Praeger, 2004), Islamic Democratic Discourse (Lexington Books, 2006), and Debating Moderate Islam: The Geopolitics of Islam and the West (University of Utah Press, 2007).
Dr. Khan is a frequent commentator in the international media. His articles and commentaries can be found at www.ijtihad.org. His research can be found at https://udel.academia.edu/MuqtedarKhan
For any questions related to the event, please email
ACMCU Event and Program Coordinator Chirin Dirani: chirin.dirani@georgetown.edu.
* Lunch will be served at the event for those in attendance