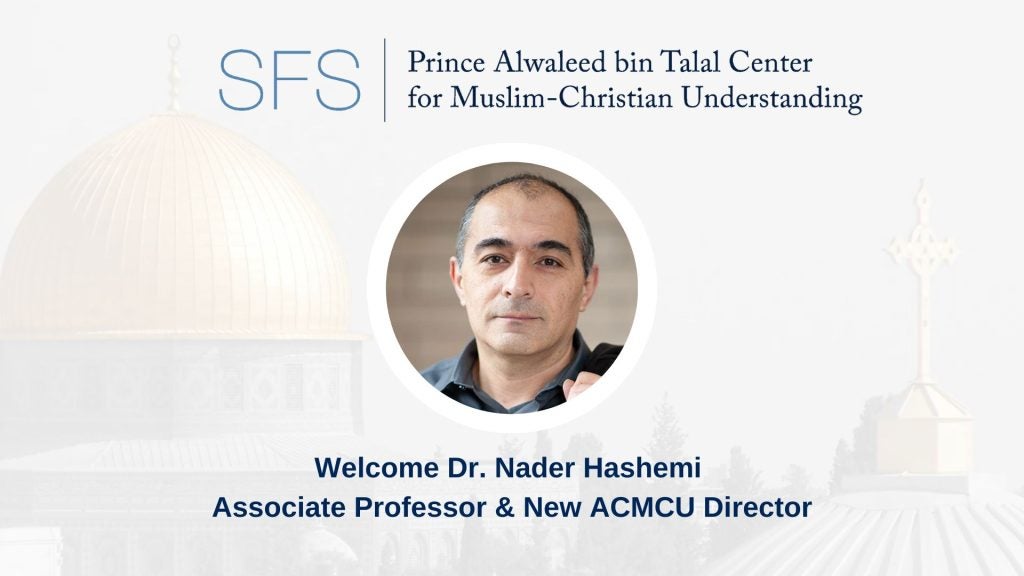 The Alwaleed Center for Muslim-Christian Understanding (ACMCU) is pleased to announce that Dr. Nader Hashemi will be joining ACMCU Faculty and Staff as Associate Professor and will be assuming the role of Director for the Fall 2023 academic season starting July 1st, 2023. Dr. Hashemi will succeed Founding Director Dr. John L. Esposito, who will be maintaining his role as Director of The Bridge Initiative and will continue to teach as Distinguished University Professor at Georgetown University. 
Dr. Nader Hashemi obtained his doctorate from the Department of Political Science at the University of Toronto and previously was an Andrew W. Mellon Postdoctoral Fellow at Northwestern University and a Visiting Assistant Professor at the UCLA Global Institute. Dr. Hashemi was previously the founding Director of the Center for Middle East Studies at the Josef Korbel School of International Studies at the University of Denver. While there, he was also Co-Director of the Religion and International Affairs certificate program, as well as the Political Theory Initiative. His intellectual and research interests lie at the intersection of comparative politics and political theory, in particular debates on the global rise of authoritarianism, religion and democracy, secularism and its discontents, Middle East and Islamic politics, democratic and human rights struggles in non-Western societies and Islam-West relations. He is the author of Islam, Secularism and Liberal Democracy: Toward a Democratic Theory for Muslim Societies (Oxford University Press, 2009) and co-editor of The People Reloaded: The Green Movement and the Struggle for Iran's Future (Melville House, 2011), The Syria Dilemma (MIT Press, 2013),  Sectarianization: Mapping the New Politics of the Middle East (Oxford University Press, 2017) and a four volume study on Islam and Human Rights: Critical Concepts in Islamic Studies (Routledge, 2023).
He is frequently interviewed by PBS, NPR, CNN, Al Jazeera, Pacifica Radio and the BBC and his writings have appeared in the New York Times, Newsweek, Wall Street Journal, The Nation, Al Jazeera Online, CNN.com among other media outlets. He is also a Non-Resident Fellow at Democracy for the Arab World Now (DAWN).